GOV'T INFLUENCE on TRADE
- the effects and influences of the
POLITICAL ENVIRONMENT
changes last made to this page 2017 Sept 11
.
Prof. Tim Richardson with
the Hon. Peter Van Sloan
Canadian federal Minister of International Trade

2010 Oct 4th
at a conference in the GTA
Why does the government get involved in business?

First - don't think of government as some anoymous entity of workers - think of government as

politicians who got elected,

and want to get re-elected

people who work in gov't jobs

and their many purpose in doing things is to "keep their job existing"
As government deals with politicians who want to "stay politicians", and government employees who want to keep ther jobs, one of the simple ways is to divide the discussion into
Economic reasons and
non-Economic reasons.
Why are Economic considerations so important?

Because the government needs money to pay for the programs and services that satisfy the population

If the economy is bad, companies do not make much money - therefore the government cannot collect much corporate tax, and turn around and use that for things that people and businesses need

In 2017, with increasing urbanization trends, large cities are more and more burdened to provide services - yet cities only revenue sources is basically "property tax", whereas te corporate tax companies pay goes to the federal government.
Economic Rationales for Governmental Intervention
unemployment
protection of infant industry
using intervention to increase industrialization
economic relationships with other countries

Non-Economic Rationales for Governmental Intervention
maintaining essential industries
"unfriendly" countries
maintaining spheres of influence
preserving culture and national identity
Things the government does to intervene
the phrase "Instruments of Trade Control" is popular with IB textbook writers,
it is a lot more simple to say "basic ways gov't controls trade"
Trade Restrictions / Trade Barriers
Nontariff Barriers

Anti-dumping Tariffs

example; the EU anti-dumping tariff on Chinese energy-saving light bulbs

Countervailing Duties

(sometimes countervailing duties and anti-dumping tariffs can be the same thing)

Quotas - limits by quantity
VERs - Voluntary Export Restraints
customs valuation

example; in England, Pringles are not potato chips !!

"buy national" policies

example; Ontario Gov't / Japanese gov't
Japan complained to the WTO that Ontario's "buy Ontario" policy unfairly excluded Japanese suppliers of green energy devices

standards

example; Canadian government lobbying to get the Chinese government to change building codes to allow for more use of Canadian softwood lumber

trade sanctions

example; 2004, EU Slaps Trade Sanctions on U.S.

COMMENT
The Dilbert cartoon is funny, but the truth is many governments go to great lengths to support key industries because it will allow them to compete internationally, which can have some effects on the economy and sovereignty - depending on which sector and how big the business.

WTGR
.
..
---
Instruments of Trade Control
an example of tariffs, and the "political environment"
"The United Steelworkers union [in Canada] wants provincial governments to lobby Ottawa to protect the country's steel industry now that federal officials have decided against penalizing low-cost imports....A spokesperson for Finance Minister John Manley confirmed yesterday that the government had decided against imposing tariffs on steel imports"

- Canadian Press (as quoted by the Toronto Star 2003 Oct 7th) reported
click on the scan to read the larger article about how the Steelworkers want the government to launch tariffs.

This is a part of the "Political Environment" because if the Steelworkers do not get tariffs they may go on strike, or they may work to make sure the local Member of Parliament is not re-elected in that constituency. If the governing party [in the case the liberals] really needs to hold that constituency they may give in.
e
---
Instruments of Trade Control
KEY
POINTS
The WTO has become increasingly involved in dealing with the "challenging" area of non-tariff barriers. It is challenging because more and more countries are trying to show they will abide by bi-lateral and multi-lateral trade agreements so they cut tariffs - but at the same time, domestic political pressure cause the politicians to think of ways they can erect non-tariff barriers to still keep out lower priced foreign products, so that domestic industries can still sell competitively to their citizens.

WTGR
.
Read this WTO page on non-tariff barriers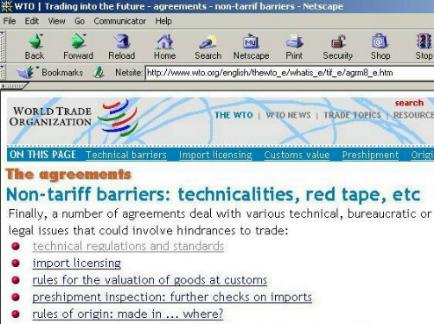 The WTO says on their site
"The WTO encourages the broadest possible dissemination of its information, particularly for educational purposes. Unrestricted official WTO documents and legal texts are free for public use."

---

.Instruments of Trade Control
subsidies

- read this special unit - screen capture below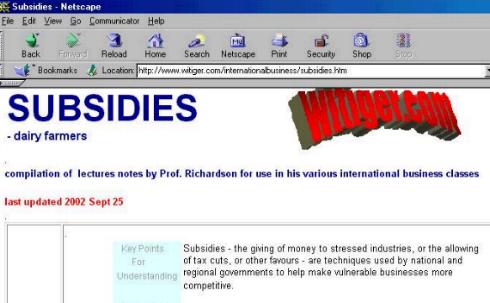 ---
Instruments of Trade Control

from http://www.rainharvest.co.za/2011/04/
the-importance-of-recycling-rare-earth-metals-and-minerals/
Rare Earth metals are 17 chemical elements in the periodic table. As named, these elements are very rare, and some of them are used in the production of expensive high tech devices.

A significant amount of these rare metals are found in Inner Mongolia (which is part of China since 1947).

China is also one of the largest processors of the ore mined and the largest user of the material which ends up in various high tech devices.
Quotas

Export
Restrictions

As an Instrument of Trade Control, Quotas can be used to restrict the quantity of imports into a country.

Sometimes, to protect limited resources, or for competitive advantage, quotas are also used for limited quantities of exports.


"Environmental restrictions in countries such as Australia, Canada, and the United States have opened the way for China to become the world's leading producer and exporter of rare earth metals"

In 2010 the Chinese government instituted strict limitations on exporting rare earth metals. In 2009 China had exported 50,000 tons but in 2010, 2011 and 2012 this has been cut back to 30,000 tons

"Many quickly concluded that the imposition of export quotas was an attempt by China to give its domestic manufacturers a cost advantage and to encourage foreign manufacturers to move more production to China so that they could get access to lower cost supplies of rare earths"
Hill and McKaig
Quotas

Export
Restrictions


August 2014
WTO ruling

China's attempt to restrict the trade of rare earth metals, by using Export Quotas, has been struck down by the WTO.

As a result of the Chinese export quota "Prices soared by hundreds of percent, leading the United States, European Union and Japan to complain that the restrictions gave Chinese companies a competitive edge in such products as hybrid car batteries, wind turbines and energy-efficient lighting."
Reuters 2014 Aug 7
some of the information about Quotas and part of the discussion of rare earth metals comes from
Chpt 6
in Global Business Today 4th Canadian Edition
Hill and McKaig
published by McGraw-Hill Ryerson
---
Instruments of Trade Control
Sept 2010

Prof. Richardson quoted at length in an interview given to CP about the trade friction created when the Japanese gov't complained to the WTO that Canada (province of Ontario) was unfairly restricting imports when the Ont. Gov't said companies receiving provincial money for the Green Energy Program must buy Green Energy products from Ontario based companies.

Minister Van Loan said the federal government must stand behind Ontario in this trade dispute.

"Canadian Government Should Buy Military Trucks Built in Canada, CAW Insists"
2009 January press release by the Canadian Auto Workers union www.caw.ca/en/5371.htm
The CAW points out that "The Canadian government has awarded a $254 million contract to Navistar to build the medium duty trucks for the Canadian Forces at its plant in Texas."

In noting the Texas purchase, the CAW mentions "the federal government has lost sight that in 2003 they invested in the Chatham facility, by agreeing to provide over $30 million of assistance to Navistar to maintain these important jobs in the community and Ontario,"

Why buy the trucks from Navistar in Texas after giving $30 million to Navistar in Ontario??
cc
"Industry calls for Buy Canada Rules"
2008 Feb 7
by Julian Beltrame for Canadian Press
cc
| | |
| --- | --- |
| | In a position paper being released 1st week in February 2008, the Canadian Manufacturers and Exporters association is calling on all governments to act to help the manufacturing sector. |
| | |
| --- | --- |
| "Buy Canadian" | Beltrame, summarizing the CME paper for Canadian Press, says "Canada is among very few countries without "buy domestic" rules on taxpayer-funded projects, says there is urgency to address the matter because of the massive amounts – $33 billion in seven years from Ottawa alone – governments have committed to infrastructure projects such as roads, bridges and mass transit expansion." |
---

Instruments of Trade Control Example: July 2008
"EU retailers slam "ridiculous" duty on green lamps"

July 2008
Europe's top retailers of lightbulbs have urged the European Union to drop the anti-dumping tariffs on Chinese-made energy-saving lightbulbs.

The story, which originally ran in Reuters, explains that European shoppers find it ridiculous that they are being discouraged from buying reasonably priced energy saving lightbulbs because the the EU imposed anti-dumping duties of 66% on energy-saving lightbulbs from China.
---
Instruments of Trade Control
Non-Tariff Barriers

customs valuation

example; in England, Pringles are not potato chips !!
In England
a British judge says "Pringles are not potato chips" which, results in them being able to be imported tax free"

Apparently this ruling was made because Pringles do not fill the legal definition of "potato crisp" which is the English word for chips.

Obviously this made the people at Pringles very happy because it made it more easy to sell their product in the U.K. at a lower price.

UPDATE 2009 May
Pringles tax status has been reversed - now, Pringles are again "chips" and will be taxed at 15%

---
Instruments of Trade Control
Key Points
WTO rulings allow countries to retaliate for situations in which an aggressor is proved to have violated a WTO regulation. In March 2004 the WTO rules that the U.S. had not repealed corporate tax breaks and this gave U.S. companies an unfair advantage in doing business in competition with European companies, so the WTO allowed the EU to put trade sanctions on American goods being imported into Europe. The story carried by Reuters, was discussed in the Toronto Star

WTGR
.
"EU Slaps Trade Sanctions on U.S."
2004 March 2nd
"The European Union slapped hundreds of millions of dollars in annual economic sanctions on U.S. jewelry, textiles, food, equipment and other exports yesterday [2004 March 1], stepping up pressure on Washington to repeal corporate tax breaks that violate world trade rules.

The move could cost U.S. companies $315 million (U.S.) this year in extra duties on exports to Europe and $666 million in 2005, unless Congress scraps the tax breaks. It is the first time the EU has levied trade sanctions on the United States since the World Trade Organization was formed in 1995.

The EU has promised to lift the sanctions as soon as the United States scraps the tax breaks. The U.S. Senate could begin action this week on legislation, but the outlook in the U.S. House is clouded. The disputed tax loopholes, valued at about $5 billion annually, help many U.S. exporters, including Boeing Co., Microsoft Corp. and Archer Daniels Midland Co.

EU Trade Commissioner Pascal Lamy said the EU had "no choice" but to resort to the sanctions after the United States missed a March 1 deadline for repealing the provisions. "Despite waiting for more than two years, the U.S. has not brought its legislation in line with WTO rules," Lamy said.
.

Key Points
Although the United States has not complied with the WTO legislation, it is reasonable to expect that the members of Congress, who must pass legislation to repeal the subsidy, will hesitate since the individual congressional members might be vulnerable to being re-elected if jobs are lost as a result of some of the big U.S. companies losing business.

This is a good example of how international business is effected by domestic politics.

A proposed bill, to rectify the situation faces opposition from Democrats and some Republicans because of provisions they argue would encourage U.S. manufacturers to move jobs overseas. The upcoming U.S. elections [Nov 2004] mean this issue is very sensitive and it could mean that the U.S. govt will not take action to satisfy EU demands.

WTGR
,
Some comments WTGR posted on YouTube
youtube.com/watch?v=jV-d7r0J8HU May 2010 about how

(1) Sometimes the actions of the federal government, through its embassies and consulates overseas, can have a negative effect on Canadians "back home"

(2) Sometimes the rules and regulations of the federal government ministries can have a negative effect on the ability of exporters to sell certain products, such as processed and semi-processed food products.

(3) Sometimes the rules and regulations of the provincial governments are used to protect key industries, and this makes importers in violation of certain laws
.
Canadian
federal
government
policy and
practices
which effect
int'l trade
1. Sometimes the actions of the federal government, through its embassies and consulates overseas, can have a negative effect on Canadians "back home"


| | |
| --- | --- |
| | In 1993, scientists working for the federal government agency Health Canada, found, during their inspections of food products worldwide, that raisins being imported into Canada from Turkey, had very very high levels of lead. The government scientists sent several warning memos to other Canadian government agencies but nothing was done. The Canadian Embassy in Turkey appeared to side with the Turkish exporters and sent memos to Health Canada staff saying that these raisins were an important Turkish export to Canada. |

Meanwhile, the U.S. government, also aware of the lead poisoning potential problems banned the import of all Turkish raisins.

Adrian Humphreys wrote a great story on this Turkey/raisin situation in the National Post July 8th 2002
.



Do you like raisins? Turn on your speakers
click the media player to the left to hear the song "heard it through the grapevine"
or watch the original youtube.com/watch?v=Y7dGdrP3pms
.
Canadian
federal
government
policy and
practices
which effect
int'l trade
2. Sometimes the rules and regulations of the federal government ministries can have a negative effect on the ability of exporters to sell certain products, such as processed and semi-processed food products

In 1987, Tim Richardson was in Hong Kong as Manager of the International Trade Unit of the Canadian Co-op Association. The CCA is a national association of co-operatives involved in business on a national and international level. The purpose of the trip was to meet with Hong Kong food products companies who might be interested in importing processed and semi-processed food products from Canada.


At one meeting with a Chinese executive of a large Asian grocery store chain, there was a strong interest expressed in importing strawberry jam from Canada.

Unfortunately the deal did not proceed because of the following. The Chinese company's first consideration was a low price. Because they wanted a low low price, they were interested in importing a low quality jam that had mostly sugar and less actual strawberries - however regulations at the time forbade the export of anything but "Canadian Grade A".

That is to say if you were selling meat overseas, it had to be "Grade A", even if the buyer wanted "Grade B", you could not sell it. Because we had to quote the strawberry jam at a price for "Grade A", it was too high and the buyer decided not to pursue the opportunity.
.
Canadian
federal
government
policy and
practices
which effect
int'l trade
3. Sometimes the rules and regulations of the provincial governments are used to protect key industries, and this makes importers in violation of certain laws.

In November 2005, it was reported in the news that Quebec agriculture inspectors seized margarine from Wal-Mart stores in Quebec City !!

Why? The regulation is intended to protect the province's 3,000 dairy producers. Quebec has a provincial law that Margarine cannot be the same colour as butter - this is an old law originally designed to protect the Quebec dairy farmers from margarine companies that night try to trick people into thinking their product was butter - so in Quebec if you sell margarine it has to be coloured white so it doesn't look like natural butter, which is slightly yellow.

Wal-Mart tries to save on costs by selling the same products in all its stores across Canada - and when it has to change some products due to provincial regulations - this is a big problem. Some people accused Wal-Mart of doing this on purpose and hoping they would not get a complaint, but this time they got caught.

This is very much an example of the influence of the "Political Environment"

The Gazette reported that "Maxime Arseneau, agriculture critic for the Parti Quebecois, tabled a margarine tub in the National Assembly and charged that Unilever Canada Inc., which makes Becel, and Wal-Mart Stores Inc. Canada were conspiring to bring yellow margarine into the province. John Coyne, vice-president and general counsel [head lawyer] of Unilever Canada was quoted as saying "...from time to time, the wrong kind of margarine might be shipped to Quebec stores."
.

.. . .,,,,

.

.