some Electronic Commerce, Mobile Commerce & General Internet Media links
compiled and maintained (very irregularly) by Prof. W. Tim G. Richardson, Toronto, Canada
www.witiger.com

last updated 2011 April 22

.
These links and short cuts are basically Tim's online bookmarks for the internet and e-business news sites he checks regularly. This page is made publically available, for the convenience of any of Tim's students, or other people - for your convenience.

E-Commerce Times is a helpful web site with some proprietary stories and many links.
Computerworld Canada,
www.ITworldcanada.com
which also publishes a hardcopy newsletter, has an extensive website which is viewable through the portal of IT World
Business 2.0 is a highly regarded e-business magazine with excellent analysis of e-business trends.

In 2011 it is now part of CNN
money.cnn.com/magazines/business2/

If you are interested in web marketing, you have to check in with Cyber Atlas daily. Lots of stats and web metrics. Interesting stuff for anyone curious about web traffic. It used to be cyberatlas.com but now it is www.clickz.com/stats/
Web marketing and advertising are the bailiwick of ClickZ Networks. You won't get the latest on who bought who at this site, but if you're looking for the skinny on web marketing, this is the place to start.
http://www.businessweek.com/ebiz/index.html

part of the group
www.internetnews.com/ec-news/
.
.

M-commerce Media links
General Internet Media links
Internet World Daily, has general stories about news on the Net.
www.iw.com/
IT World
www.ITworldcanada.com
is a portal from which there are connections to many media sources, such as ComputerWorld Canada

part of the group
News Linx, part of the internet.com group, suggested by Warren Lee, has an easy to scan list of news topics from all the major wires and major broadcasters.
http://newslinx.internet.com/
Computerworld The online connection for information technology leaders. Computerworld's web site complements the print publication by providing a daily resource for the IS community. News is updated three times daily, there's an audio version of the news and audio profiles of IT newsmakers, and there are many other stories and services that are online only.
One of the Web's premiere tech news sites also does good e-commerce. Current, timely news
http://news.cnet.com/news/
General Media links - Internet specific
Tim's fav www.sciencedaily.com
We are pleased to have this gallery linked to by
http://www.halien.net/m-ad/m-adLnkNews.htm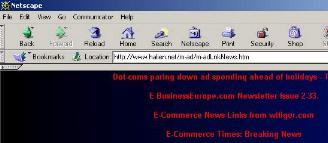 Disclaimer
The information to build this table came from the students/participants of Seneca College's E-commerce class IEC 802 in the summer of 1999. The programme participants used information posted by these web sites. By listing such information in this fashion we are not implying endorsement nor criticism of any of these companies. The purpose of this table is simply to provide a quick comparison reference for e-commerce professionals who are working with Canadian SMEs. Suggestions for some of these media links came from students in IEC 802. The majority of the work to build this list was done by Warren Lee. Comments or suggestions can be sent to Prof. Tim Richardson.
.