| | |
| --- | --- |
| The Balanced Scorecard | |
last updated 2014 July 25
.
For the students of Prof. W. Tim G. Richardson, Toronto, Canada

Why is the Balanced
Scorecard important?

Is it important in 2014?

An Introduction to the Balanced Scorecard


Eric Cousineau, MBA (Queen's),
serves as Managing Director
and founder of OCG Organization Consulting Group
www.ocgroup.ca/PEOPLE-EC.html

OCG is a company that uses the Balanced Scorecard, and other such tools in addressing the needs of their clients.

Cousineau has previously taught the course
SCS 2302 "The Balanced Scorecard" at the
University of Toronto School of Continuing Studies

in conversation with Tim Richardson in July 2014 Cousineau explained that
Yes, the Balanced Scorecard is indeed still used in performance measurement

One of the reasons the Balanced Scorecard remains in use is because it deals with quantitative measures of performance instead of measures based on effort.


"In a globally competitive economic environment where medium and large sized companies suffer the tyrany of publishing quarterly earnings and stock performance is judged by a diverse group of investors, including institutional investors many time zones away, it has become more important for decision makers to evaluate the CEO and senior management team and to do such judgement in an effective and transparent way."
WTGR
vv
the Balanced
Scorecard


Transparency

Cousineau, in a 2011 paper, reminds us that the corporate scandals of recent years encourages companies to provide performance measurement information in a more transparent way. Read his paper at
ocgroup.ca/Publications/tbl_march_2011_p13.pdf

Cousineau makes many good points, including the explanation of why transparency is important. Cousineau explains

"In addition to helping investors make better decisions, transparency increases confidence in the fairness of the markets.
Further, transparency is important to corporate governance because it enables boards of directors to evaluate management's effectiveness and to take early correction action..."



"if you add in the rapid advances in the technological environment, particular IT and communications technology, mixed together with an explosion in the use of various text and image and video based Social Media compiled with the rise of bloggers and "citizen journalists", companies are seeing a much greater exposure of their private information - the corolloray of which is the need to include such information in their Performance Measurement details... cause if they don't, the public, media, activist investors and institutional investors will find out anyways".
WTGR
| | |
| --- | --- |
| | "The balanced scorecard is a strategic planning and management system" |
..
The "Balanced Scorecard Basics"

"It was originated by Drs. Robert Kaplan (Harvard Business School) and David Norton as a performance measurement framework that added strategic non-financial performance measures to traditional financial metrics to give managers and executives a more 'balanced' view of organizational performance."
(balancedscorecard.org/BSCResources/AbouttheBalancedScorecard/tabid/55/Default.aspx)

While Kaplan and Norton invented the term "Balanced Scorecard", the concept of having a systematic way of measuring performance goes back to some of the giant sized manafacturing companies, such as General Electric. As the competitive environment became more intense, companies like General Electric needed to find specific ways to "measure" the consequence of what they were doing to ensure that they could produce products and services most efficiently, and therefore save money and time and resources.
..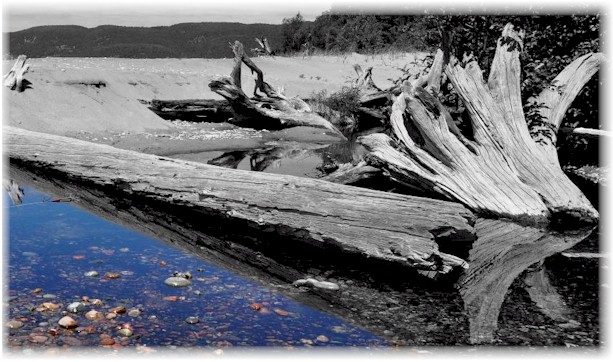 Agawa Bay, east side of Lake Superior, WTGR June 2012

What the "Balanced Scorecard"
was trying to fix

It was undersood that "traditional performance measurement systems" such as management accounting based systems were based on results - meaning you calculated and totalled the "math" for some processes and tried to understand what went wrong from the results, after the fact.

Dr. Robert Davies ( drrobertdavies.com ) explains that using "old school" managment accounting systems was an "Outcome Focus".

Davis noted "Established financial indicators such as turnover and profit before tax are outcome indicators. They only alert us when things have gone wrong and the effect is being felt in the balance sheet. Such indicators and measures don't provide us with an indication of when things may go right or wrong in the future. In short, these measures are lagging not leading indicators - they do not provide us with an early warning system."

Dr. Robert Davies
http://www.drrobertdavies.com/balancedscorecardsuccessproblems.php
..
Vision
Goal
performance

The "Balanced Scorecard Basics"

One important "preamble" to understanding the circumstance of the Balanced Scorecard is the stipulation that "is used extensively in business and industry, government, and nonprofit organizations worldwide to align business activities to the vision and strategy of the organization, improve internal and external communications, and monitor organization performance against strategic goals"
(from www.balancedscorecard.org/BSCResources/
AbouttheBalancedScorecard/tabid/55/Default.aspx)
.

Taiwan's "Taipei 101", the world's tallest building from 2004 to 2010 by WTGR April 2011
It is useful to key in on the words "align business activities to the vision and strategy of the organization, improve internal and external communications, and monitor organization performance against strategic goals"

It is suggested that if the organization's Vision / Mission Statement and Goal were crafted properly then we should diligently check to see if the activities carried out to accomplish that goal are indeed activities that are measurably useful and of consequence.

What's the point of having a lofty goal if you don't know if your work is progressingly appropriately to achieve the goal.
n

Evolution

It has happened, with a number of professors that invent some process or system, that it becomes "commercialized", meaning people want to teach companies fow to do things a certain way to fit the theory, and they end up creating "product" that can be sold - usually based on a method of going thorugh certain steps

The "Balanced Scorecard" has similarly morphed into situation where there is a "full strategic planning and management system" which consultants can use to help companies that want to have their perfromance measured such that they can make improvements to be more efficient and effective.
.

The "Balanced Scorecard Basics"

"The balanced scorecard suggests that we view the organization from four perspectives, and to develop metrics, collect data and analyze it relative to each of these perspectives:"
The Learning & Growth Perspective

"This perspective includes employee training and corporate cultural attitudes related to both individual and corporate self-improvement."

Learning and Growth is particularly important for IT companies were the knowledge-worker organization depends on having the brightest and best educated people to be competitive in developing and marketing new products and services.

Lifetime learning is a big part of the way that companies treat knowledge workers who constantlyhave to be updated due to the fast moving changes in the technological environment.
.
| | |
| --- | --- |
| | Lifetime learning has also led to a fast growth in "alternative education" such as MSCE instead of M.Sc. as well as the proliferation of certification within industry associations and certification of competency with leading software and systems., such as |
.
The Customer Perspective

When the Competitive Environment is intense - meaning a lot of people competing against you to serve your customers, and a lot of competition for resources to produce your product, it gives and advantage to the customer
- simply put, customers have many people wanting to sell them the same thing, so they can pick the best price and features

Companies operating in an intense competitive environment therefore have to be very attentive about serving the customer and satisfying customers in order to maintain and grow their business.

Terms such as CRM Customer Relationship Management and CLV (Customer Lifetime Value), Customer Retention are used to describe what companies do to handle information about customer activities and maintaining good relations which lead to long term purchase arrangement.
www.witiger.com/marketing/CLVandVelvetRopeCustomers.htm

Customer Retention
- it is more effective to grow your business with Market Development as opposed to Market Penetration
- see witiger.com/ecommerce/4opportunities.htm
.
The Customer Perspective and the influence of web based businesses

"The Internet is shifting power—irreversibly—from sellers to buyers. Thanks to the Internet, B2C consumers and B2B purchasing agents can more efficiently explore more shopping options and more easily educate themselves. Customers have an abundance of options; and now they can get information about products or services that interest them in a much shorter amount of time."
Gary Cokins gary.cokins@sas.com

Web based businesses are challenged because customers have

more choices - you can buy anywhere FedEx ships
alternative ways of paying
better information about products

F.A.B.s (features, advantages and benefits)

share information with other customers

in blogs, chats and social media groups
.
The Customer Perspective and the influence of "blended" social-cultural environment

In Canada we like to think we are special because we are so multi-cultural and welcoming of different cultures and faiths

In my opinion (WTGR), our blended social-cultural environment is primarily an urban phenomenon; these days, not many immigrants come to Canada and settle in the rural areas, almost everybody goes to the large cities of Toronto, Vancouver and Montreal
Canada is NOT the only multi-cultural country, most large OECD countries with a decent economy have evolved to be very multi-cultural in their large cities, eg. London, Paris, New York and LA in the U.S., Dubai, Sydney and Melbourne in Australia
.

showing all the different BBQ sauces available in Loblaws demonstrates the "breadth" of the product line as a result of the different cultures shopping at Loblaws
so dealing with a multi-cultural customer base and workforce is not just a Canadian challenge but a challenge faced by many countries as the

technological environment facilitates "representing" more cultures,
and the volatility of the economic environment encourages large numbers of people to move long distances for better opportunities
.
The Financial Perspective

"number crunching" and the use of statistics has been popular for many years among business leaders in order to figure out the things a company is doing well and the things that need improving.

We don't need more financial information - there is already too much.
We also need to distinguish between Information and Intelligence.
see witiger.com/ecommerce/competitorintelligence.htm
.
The difference between information and intelligence

Most people know that all cell phones sold since 2004 have GPS capability which may or may not be activated depending on the jurisdiction.

Here is an example


Rogers has a joint venture with Nokia to develop a chip that can be used for e-payment systems.

- while important, and newsworthy, this is just information

Rogers is two weeks away from signing a 2 year agreement with Royal Bank to allow all Rogers Cell phones to be used as e-payment proximity devices, based on RFID technology with all RBC interac stations in the greater Toronto region beginning in July 2013.

- this is actionable intelligence because it is information specific enough that a competitor such as Bell Mobility could proceed to develop a JV with Scotiabank such that Rogers would not have a monopoly in this area for too long.

Too many times companies suffer from TMI, with not enough information that is "tactically useful"
.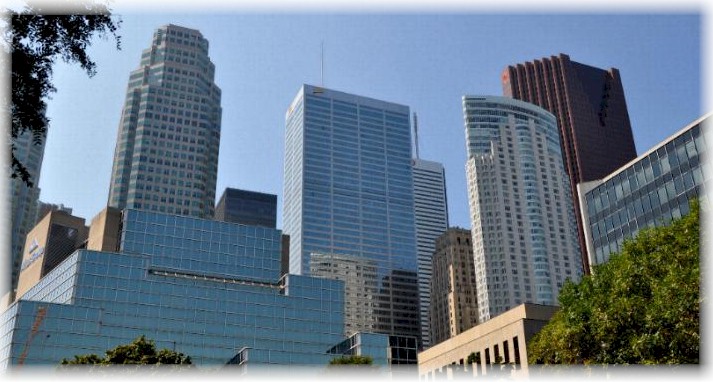 view of the head offices of major Canadian banks, Toronto, Sept 2012 by WTGR
.
The Business Process Perspective

"This perspective refers to internal business processes. Metrics based on this perspective allow the managers to know how well their business is running, and whether its products and services conform to customer requirements (the mission). "

The key part to whether this part of the scorecard is useful is based on the point that "These metrics have to be carefully designed by those who know these processes most intimately"

One of my (WTGR) biggest criticisms of MBA experts on telling a business how to operate, is that their business advice is

based on theoretical models were everything works perfectly, and they do not allow for the problems that happen when "real life" gets involved
lacking in hard core experience - these people often have no personal experience and understanding of the business sector within which the particular client is operating

due in part to the darwinian process of selection that allowed them to get into MBA school and subsequently graduate (read Mintzberg)

not specific to the sector - businesses are very different from sector to sector, what works in the auto parts business may be much different than the travel and vacation business, which is in turn very different from the agricultural business

MBAs typically study from cases of large sized organizations - which have a lot of problems to be analyzed - BUT, it is actually small businesses which are the "engine" of the economy and many "recipes" for management and operations do not apply to SMEs
.
Criticism / compliments
of the
Balanced
Scorecard


Marlys Lipe (Oklahoma) and Steven Salterio (Queen's) wrote in a 2000 paper
http://psychology.uwaterloo.ca/~dkoehler/ACC784/LipeSalterio2000.pdf
about some problems with managers using the Balanced Scorecard.

Lipe and Salterio explained that "The BSC is a relatively complex and costly measurement system."

In emails with WTGR in Sept 2013, Prof. Salterio noted
"While the concept [Balanced Scorecard] has morphed as new uses have been found for it and some of the latest developments are pushing it a bit (a strategy tool), the fundamental idea is sound...."

The.http://psychology.uwaterloo.ca/~dkoehler/ACC784/LipeSalterio2000.pdf
The Balanced Scorecard is something that is widely known among those teaching business and management subjects.
Sometimes the topic is discussed in such detail that it occupies an entire course.
See http://2learn.utoronto.ca/uoft/search/publicCourseSearchDetails.do?method=load&courseId=5858544
for an entire course devoted to the Balanced Scorecard run by the University of Toronto School of Continuing Studies
This course was last taught in 2010 by Eric Cousineau, MBA
.