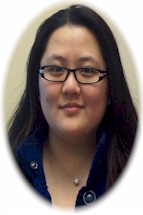 pic supplied by Stephanie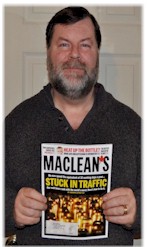 Prof. WTGR holding his copy of Maclean's, taking the opportunity to remind all students to read the newspaper on a regular basis, and reading a major news magazine is also good too.
Student Stephanie F. in MGTC46 at UTSC in 3rd week of January 2011, emailed to say

I was doing some reading before your class on sustainable development and in that section of the website, you mostly talked about illegal deforestation, or exacerbating the natural resources that mother nature has given us for mere profit. However, something that hits closer to home, is in regards to the expansion of highways in Toronto. Usually when building highways, it includes mass deforestation and disturbances to natural ravines, estuaries and water reserves that are really damaging to the ecosystem. Most people feel that highway infrastructure expansion is necessary for "development" I believe that the city should be looking towards other alternatives such as increase buses (which takes about 30-60 cars off the roads, minimizing emissions) rather than building more highways to try to lower travel and idling times during traffic hours.

Most people may think that highways are necessary for agricultural health or global development (because of transportation) and therefore improving businesses. In a ways, yes it does improve transportation costs to have a more efficient and most direct route available. But also to consider, highways normally lead to big-box stores, malls and large shopping centers. These places of retail are normally foreign-owned stores and does nothing for local businesses. In fact, one can even argue that because of new highways, smaller family owned businesses are suffering as a result.

Thus, I think that the best option in terms of transportation for global developed economies is to lower the usage of cars, and increase the efficiency of transit systems so more people will use it. Giving nature, forest and natural bodies of water, a chance to sustain the animals and creatures living inside it.
WTGR replies

Steph, I appreciate your sensitivity to the issue, and, unfortunately, it will be your generation that deals with the consequence of the "consumerism" evangelized by my generation. I also think your comments are timely since the cover of Maclean's magazine this week (Jan 17th 2011) features the topic of Toronto as having the worst traffic in North America.