EXPORT
FINANCING
This page last updated 2015 July 20



INTRODUCTION
The 4 P's, product, price, promotion, place are of course effected by how much money you have for exporting. The Canadian government considers exporting a good thing for most all companies and strongly encourages companies to export.

Sometimes the economic environment and the competitive environment are such that a company might not have enough money for export development so the government has several programs to financially support companies so that they can get started. Most of these programs are available at the federal level, but some are also available provincially.

WTGR
.

Screen capture to the DFAIT site discussing funding assistance for Canadian exporters
2012
- link still works 2015
2015 Update
PEMD in 2015 still goes through the
GOA Global Opportunities for Associations

Basically, this requires companies (who wish to obtain the funding) go through the relevant industry association for that sector / geographic.

Annual non-repayable contributions range from a minimum of $20,000 to a maximum of $250,000 (increased from $150,000)

see
.
2015 Update
PEMD in 2015 also includes International Financial Institution (IFI) Funding for Education and Training

Canadian companies are eligible to bid on IFI-funded contracts. These include: the

African Development Bank,
the Asian Development Bank,
the Caribbean Development Bank,
European Bank for Reconstruction and Development,
the Inter-American Development Bank and
the World Bank Group.

"Each year, development and humanitarian aid agencies provide over $150 billion in funding for a wide variety of development and humanitarian aid projects in dozens of countries around the world. "

These projects are opportunities for Canadian companies to be involved in overseas business as providers of services and goods.

http://www.tradecommissioner.gc.ca/eng/development-humanitarian-aid-markets/index.jsp
.
2012 Update
PEMD is known in 2012 as
GOA Global Opportunities for Associations

"Global Opportunities for Associations (GOA), formerly the Program for Export Market Development - Associations (PEMD-A), provides contribution funding to support national associations undertaking new or expanded international business development activities, in strategic markets and sectors, for the benefit of an entire industry (member and non-member firms)"

Annual non-repayable contributions range from a minimum of $20,000 to a maximum of $150,000

see www.tradecommissioner.gc.ca/eng/funding/global-opportunities-associations/home.jsp
. .
2007 Update
A note on the DFAIT site in July 2007 says "A strategic review of the program in 2003/04 determined that PEMD-Industry was no longer in line with clients needs. That program element was closed in April 2004 as part of the government-wide effort to reallocate funds. Small and medium size enterprises, however, continue to receive assistance through the Virtual Trade Commissioner, through the Department's regional offices in each of Canada's provinces, and through more than 140 embassies and consulates abroad."

PEMD-INDUSTRY is shut down
PEMD-ASSOCIATIONS is still active
.
| | | |
| --- | --- | --- |
| 2004 Update | | A note on the DFAIT site in Nov 2004 says "International Trade Canada has closed down the Program for Export Market Development for Industry (PEMD-Industry). PEMD-Industry contributions that were approved before March 30, 2004, will be fulfilled" |
.



Gov't
Sources
for
int'l
business
finance

PEMD http://pemd-pdme.infoexport.gc.ca/pemd/menu-en.asp
The federal government has a support program for exports called PEMD. PEMD is money which exporters can access to help them afford to attend trade fairs, prepare foreign language promotional material, travel and expenses to meet with potential foreign customers etc.

"PEMD is the government's primary international business development program. The objective of PEMD is to increase export sales of Canadian goods and services by sharing the costs of activities that companies normally could or would not undertake alone, thereby reducing risks involved in entering a foreign market."

Companies apply for an amount - and, if granted they spend the money alloted and submit receipts against which cheques will be issued. The application progress is rigorous and companies have to substantiate thatthey would be effective users of any money and that the subsequent actions taken would result in export sales.

Qualifications for being accepted to PEMD include a company having to have annual corporate sales of greater than $250,000 but less than $10 million.
.
Gov't
Sources
for
int'l
business
finance
PEMD examples

PEMD assisted a Montreal-based engineering contracting firm win a $270-million project in Indonesia. PEMD assisted them in bid preparation.

An Alberta company used a PEMD to allow it to visit potential customers in Africa and from those meetings, secure business.

Recently the government has also created a new program PEMD-I which helps people with the expenses to attract investors.
.
Gov't
Sources
for
int'l
business
finance
PEMD and Associations
http://pemd-pdme.infoexport.gc.ca/pemd/tradeassociations/assist-en.asp(2007)
"The PEMD – Trade Association Activities program provides assistance on a cost-shared basis to Canadian, sectoral trade associations that have a national mandate."

This allows the government to assist exporters who are grouped in sectoral or geographically focused trade associations.

Is the company that you are studying for the final exam a member of an association? Is that association a candidate to participate in PEMD?
.
Gov't
Sources
for
int'l
business
finance
other federal programs besides PEMD include

NEBS - New Exporters to Border States

"...targets Canadian companies not yet exporting to the United States (U.S.). NEBS
introduces the essentials of exporting, including practical export information and first-hand exposure to markets in the United States"
.
Gov't
Sources
for
int'l
business
finance
It doesn't always have to be physical products, it can be services and cultural exports also.

Film, Video, Television

the International Cultural Relations Program of the
Department of Foreign Affairs & International Trade

"Financial support may be provided to professionals in the Canadian film, video and television industries who have demonstrated experience and success in their field, to support their participation in international events with a view to the sale of their products
abroad and the stimulation of international co-productions. Preference is given to projects that will help professionals launch international careers and develop international market potential. Funding generally covers the cost of international airfare."
.
Gov't
Sources
for
int'l
business
finance
Books

Association for the Export of Canadian Books (AECB) (supported by the government)

"International Marketing Assistance Program: administered by the AECB, this program is funded by the Department of Canadian Heritage as a component of the Book Publishing Industry Development Program. The objective of this component is to develop and sustain Canadian publishers' export sales. The IMA is made up of two funding programs: the Export Marketing Assistance Program (EMAP) and the Foreign Rights Marketing Assistance Program (FRMAP)."

"The AECB is applying for a $100,000 contribution from PEMD, focusing on providing enhanced market intelligence about the US, UK, French Europe and developing countries. The AECB has also applied for funding support towards the coordination of a collective Canada stand at the upcoming Tokyo, Beijing and Liber (Madrid) book fairs."
http://aecb.org/news/Jan20_05E.htm#AECB%20Business
.
Gov't
Sources
for
int'l
business
finance

EDC


EDC provides market reports and advises exporters about how to minimize risk in international business transaction. This is particularly helpful for medium and small sized companies worrying about selling to a buyer that might not be covered by conventional insurance policies, or worried about selling to a buyer who is in a risky situation due to a crisis or threat situation.

An explanation of their insurance services and political risk coverage;

"When you invest overseas, you're exposed to a range of risks over and above the business challenges you face in the domestic market. EDC Political Risk Insurance can help you protect your investments abroad, covering up to 90 per cent of your losses."

An EDC Political Risk Insurance (PRI) Policy insures you against losses due to three types of political risk:

Transfer and inconvertibility of funds (inability to repatriate 4X)
Expropriation
Political violence
.
EDC

JOBS


Students may be interested to know that EDC hires university graduates who have studied int'l business and finance. Some former UTSC students work at EDC.
edc.ca/EN/About-Us/Student-Programs/Pages/default.aspx(working July 2012)

"EDC was recently honoured in Maclean's magazine as one of Canada's TOP 100 Employers. Company-wide, we speak over 40 languages and do business in more than 200 countries around the world."
.

Gov't
Sources
for
int'l
business
finance

CCC

| | |
| --- | --- |
| | The Canadian Commercial Corporation (CCC) is an export sales agency of the Government of Canada. |

The CCC ..."help Canadian exporters win sales, on improved terms, in government and private-sector markets around the world. Using its governmental status to sign export sales contracts on behalf of Canadian exporters, the Corporation puts the power of Canada behind an export sale, guaranteeing its full and satisfactory completion"

Their site explains
"CCC specializes in international procurement markets for Canadian exporters and provides services to help them win export sales. Business leads, proposal preparation, contract negotiation, and contract management are the foundation of export success."

read more about the CCC at www.ccc.ca
additionally, the CCC has a great links page which identifies all the other government agencies and organizations devoted to assisting exporters.
.
The CCC operates in a way that helps unknown Canadian companies "get a rep" by having the CCC say "we know him, he's a friend of ours"

A helpful understanding of the phrase "a friend of our's" can be gleaned by watching a clip from the mob film "Donnie Brasco"

In this segment, Al Pacino (the older Mob guy) explains to Johnny Depp (the younger guy) how they use certain phrases to indicate to strangers that a certain person is OK to deal with

A "friend of mine" simply means that the reference can vouch for him one-to-one

A "friend of ours" is more powerful and means the person has the credibility of the whole organization behind him
youtube.com/watch?v=Bnmt6dLasxw
..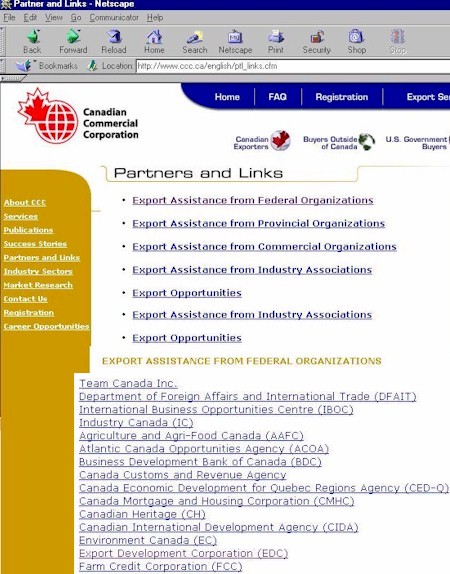 ,
Gov't
Sources
for
int'l
business
finance

BDC



BDC's "Working Capital for Exporters"
www.bdc.ca
"Working Capital for Exporters is designed to help small businesses finance export and export-related activities. This product provides pre-shipment financing, of up to $250,000, to cover the heavy costs associated with initiating and developing international markets. Flexible repayment terms allow small companies to build foreign sales and ensures the long-term viability of your company."

The thing about BDC is the criteria might be difficult to meet for some small exporters.

The criteria are

An existing line of credit with a chartered bank, credit union or caisse populaire
A normal level of working capital assistance from conventional sources
In operation for at least two years
A solid management team
Projected growth of export sales and good profit potential
Already or about to begin exporting

Some people point out that if a company had an existing line of credit from a bank + all the other things, it would have no trouble raising money without going to the gvernment !

However there are some circumstances where BDC financing is the only option for some companies since they are, for one reason or another, excluded from other financing situations.
Gov't
Sources
for
int'l
business
finance

BDC



On their website they also list "Things the BDC does NOT do" - which is helpful cause it will save you from wasting your time.
"Things they do not do", include

Grants/subsidies or non interest-bearing loans
Residential or non-commercial loans
Loans to bars, night clubs, gambling facilities, sexually exploitive businesses
Private clubs or organizations that limit the participation to a restricted group
Loans to companies that are in default of environmental regulations and that do not want to comply with them
Vehicle or equipment leasing
Regional / Municipal
Municipal and local region governments don't have as much money as federal and provincial governments, but they also have web based information on financing

see http://www.niagaracanada.com/content/index.asp?page=519(link dead)
.