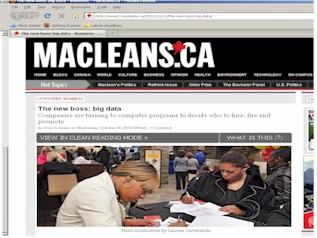 The screen capture to the left refers to an article in Maclean's magazine Oct 2012 discussing the role of software programs in decisions about employee performance, hiring, firing and promoting.

Chris Sorenson explains

"Hiring and training new employees is expensive, and most corporations try to keep staff turnover, or "churn," to a minimum."

The trend
"It's all part of a larger shift toward the use of data analytics, or "big data," in the corporate world. While crunching massive databases in search of insights into consumer behaviour is fast becoming standard operating procedure (Amazon's product recommendation engine is a good example), the notion of using the same tools to manage a company's own employees is more controversial, mainly because it's not an exact science"

The reason ...
"The potential market for such products is huge. A recent IBM survey of 1,700 chief executives found that 71 per cent said human capital was the most important factor in maintaining a competitive advantage."