updated 2012 Jan 09
Marketing Strategies
Marketing Plans
This page is prepared by Prof. Tim Richardson for his students.


Marketing
Strategy

A Marketing Strategy is composed of
1 - Target Market - basically "who" you are selling to
- your "target market segmentation"
2 - Marketing Mix (the marketing mix being the 4 p's)
- the controllable variables
- the things you can do something about

The things you cannot do anything (the uncontrollable variables) are the 6 environments within which marketing exists

Your choice of Target Market, and the way you select the 4P's are influenced by your company's strong capabilities, things you aren't good at, chances of doing something new, and challenges from the competition, also known as

Strength
Weaknesses
Opportunities
Threats

or SWOT Analysis see youtube.com/watch?v=yPCV6gTi1D4
vvv
Marketing
Strategy
2 - Marketing Mix (the marketing mix being the 4 p's)

product - you can change it, add new features

branding
supply chain management
versioning



price - you can lower it, raise it

what are your pricing objectives



promotion - you decide the advertising

Mass Selling

Advertising - you pay for it
Publicity - it is free

Sales Promotion
Personal Selling



place - you decide where it is sold

"brick" store
online store
distribution channels and wholesale/retail partnerships
.
So once you have a "Marketing Strategy" developed, you can the create a "Marketing Plan"
if you add in the time related details as to what is done when

And a "Marketing Program" for a medium or large sized firm is simply several Marketing Plans for example if you are Ford,
you'd have a Marketing Plan for trucks, a Marketing Plan for small passenger cars, a Marketing Plan for large industrial vehicles, etc.
Below is an example of how SONY divides up one of their divisions into different Marketing Plans
from http://www.sony.com/SCA/outline/electronics.shtml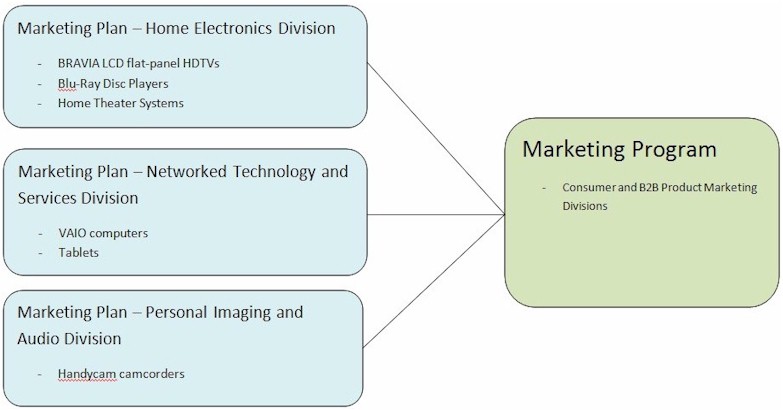 Key
Points
So if someone asks you
"What is a Marketing Strategy?", you can tell them it's the Target Mkt + the 4Ps.

If someone asks you
"What is a Marketing Plan?", you can tell them it's the Marketing Strategy + the Time related details

If someone asks you to develop a whole marketing program for a firm, you put together several marketing plans for all the different products.

WTGR
.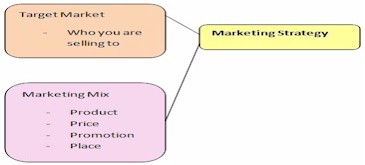 Key
Points
The phrase "Marketing Strategy" has become increasingly important in business. In the 1990's, people used the words "Marketing Strategy" all the time without specifically employing the proper meaning of the word. In recent cases, it has become more important to use the term properly and a number of newspaper stories talk about how companies need to have a good "Marketing Strategy" - because,,, without one, they are in big trouble.

WTGR
...


...



.

In the National Post Sept 23-27 there was a six part series on "Expanding your Business"
In the Sept 23rd installment there was a story on page SR1 titled "Successful Marketing is no Secret" - this story, by Tim Renshaw, dealt intensively with the term "Marketing Strategy"

- there are many good quotes frm this article which match the material in Chpt 3 and Chpt 8 of this course.
- because of the particular usefulness of this article, we have included the full text available at the link below - you should read this
www.witiger.com/marketing/article~marketing~strategy.htm

the following text comes from the Sept 23rd, 2002 story

"Marketing strategies for start-up businesses are hit-and-miss affairs. Unfortunately for a large percentage of those businesses, it is more miss than hit. Up to 40% of Canadian businesses fail in their first year. By year four, that rate has jumped to as high as 70%, according to Statistics Canada. Key among the reasons behind business failure is marketing."

"David Frey, president of Marketing Best Practices Inc., of Houston, Tex., says it should be the first element of any business plan. "Your marketing plan is where you prove your concept," he says.


"This involves thinking through such questions as: "Does my market want my product or service? Do I have proof that my market will pay for my product or service?"


.
meaning ... have I done any target market segmentation to focus on people that want my stuff.

WTGR

.
What competition will I face and how will those companies respond? If you can't sell it, you shouldn't produce it," he says.


.
meaning ... have I considered the impact of the environments, particularly the Competitive Environment.

WTGR

.
A marketing plan is "a recipe for getting it right," Ms. Bishop says. That recipe should include goals, marketing tactics and specific actions to execute both.
.

.
This is why we talked about GOPST in some classes

Goal
Objective
Plan
Strategy
Tactics.

WTGR

.
"It should be aimed at a specific customer and be grounded in sound research."


.
The key is to listen to the customer, to what the marketplace is saying and to what the competition is saying. "Your business ultimately depends, not on customer satisfaction but on having them return as loyal customers."
(which leads to C.L.V.)


.
.
.

Prof. W. Tim G. Richardson © www.witiger.com