available Aug 2005 in the UTSC campus bookstore
www.uoftbookstore.com/online/merchant.ihtml?id=41789&step=2

available Jan 2006 in the UTM campus bookstore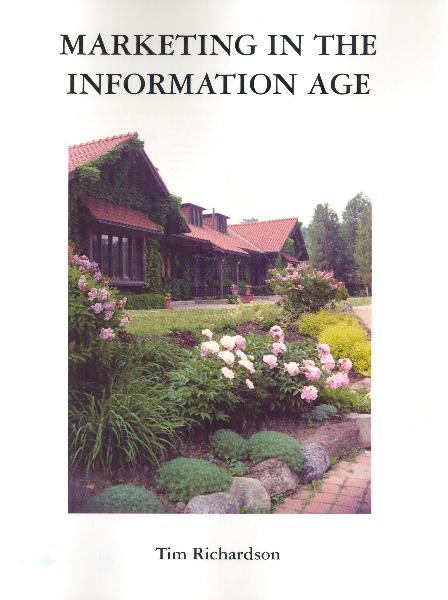 Table of Contents
Section A

The 5 (6) Environments p 13 - 26
Benefits & Limitations p 27 - 34
e-Commerce Stats p 35 - 40
Women Online p 41 - 59
Do's and Don'ts p 61 - 68
Things to be Convincing About p 69 - 87

Section B

GOPST - Goals, Objectives, Plans, Strategies p 91 - 103
Business Models p 105 - 127
Search Engine issues p 129 - 145
Search Engine Ranking p 147 - 180
B2B businesses p 181 - 192
Intranets & Extranets p 193 - 201

Section C

Section C - intro p 205
Banner Ads p 207 - 217
Online Branding p 219 - 229
Payment – ePayment Matrix introduction p 231 - 236
Payment – ePayment Matrix p 237 - 249
ePayment article, scanned and PDFd p 251
ePayment article scanned - large size, side A p 252
ePayment article scanned - large size, side B p 253
Payment – Credit Card Issues p 255 - 268
Payment - PayPal p 269 - 275
Domain Names – Registration Issues p 277 - 296
Domain Names – Marketing Issues p 297 - 302
Domain Names – Security Issues: Phishing p 303 - 313
Online Communities p 315 - 326
Section D

Internet Security
Viruses p 329 - 343
Scams p 345 - 368
Dot-Com Failures p 369 - 374
Privacy Issues – Bill C6 p 375 - 394
Identity Theft p 395 - 412
M-Commerce – a basic introduction p 413 - 429
M-commerce & GPS p 431 - 434
M-commerce - Search for a Killer Application p 435 - 449
Portals Article Scanned p 451
Portals Article Scanned - large size, side A p 452
Portals Article Scanned - large size, side B p 453
eBanking Article Scanned p 455
eBanking Article Scanned large size, side A p 456
eBanking Article Scanned large size, side B p 457
Location Determinant, Location Indeterminant p 459 - 462
Online Shipping p 463 - 471

bb
| | |
| --- | --- |
| The textbook was written by Tim Richardson in the summer of 2005 after having taught the course MGTD06 many times and having built a huge website that included all the lecture notes. | |
The book contains virtually everything from the online lecture notes and allows students to have these notes in a book form which some said would be easier to study from. It also saves students printing out all the course web pages (there are more than 500 in D06).

The image on the from cover was taken by me in the spring of 2005 and is a shot of the Miller Lash house on the UTSC campus.
http://millerlashhouse.utsc.utoronto.ca/index2.html

The original picture was flipped horizontally to fit the cover. You may see a large version here.


also