Chp 2
continued,,

HTML
Editors

HTML Editors
Rick Darnell says that "one of the main drawbacks to working with HTML is that many Web page editors don't display a page the way it will look on a browser ...this situation is changing with the advent of WYSIWYG editors that display a page using the standard accepted by most browsers."

There are 2 basic types of HTML Editors:
Tag Editors - provide the author with direct control of the tags. Requires reasonably good understanding of HTML.
Representational Editors - use menus and wizards to allow you to roughly see how it will look, as you go. Requires minimum knowledge of raw HTML.

Go to Tucows (click on icon to the left) to browse through several of the Advanced HTML editors. You will find HoTMetaL, HotDog and WPC on the list as well as others.

A short list Review of some of the more popular HTML Editors, including links to their downloads http://www.qsystems.net/pub/html.htm

---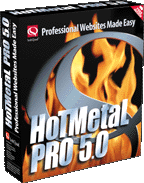 HoTMetaL Pro, at http://www.sq.com/ is the product of a SoftQuad Software Inc., (which was recently bought by Corel) a Canadian company based in Toronto. Various sources say HoTMetaL has the largest number of users.



Homesite, which is now selling version 4.0, is also well know with experienced webmasters, and is easy enough to use for novices. Homesite 4.0 is also one of the web editors used by the folks at Seneca in the CNT

Allaire, the company behind Homesite 4.0, is also the company from which ColdFusion comes.