Canada's "Trading Square"
The trading relationship among Canada, the largest partner U.S.A., and the American's 2 biggest Asian partners, China & Japan
updated 2010 Sept 14

.
UPDATE
2012 May
China - Canada
2 way trade
1997 $ 8 billion
2010 $ 60 billion
2012 $ 70 billion

In 2012 Canadian
exports to China were $ 19 billion
and we imported $ 50.7 billion

exports to China
the largest export to China (14% of the total)
was mining and mineral related products
- followed by wood products, followed by grain

largest category of imports from China was electrical machinery and equipment - as this has been the predominant category for several years
resource http://www.asiapacific.ca/statistics/trade/bilateral-trade-asia-product/canadas-merchandise-trade-china

.
UPDATE
2010 May
China - Canada
2 way trade
1997 $ 8 billion
2010 $ 60 billion


Mandy Y in MGTC44 at UTSC in early May 2010 emailed to say that she found a site
http://www.statcan.gc.ca/daily-quotidien/100406/dq100406a-eng.htm
which explained

"China replaced Japan as Canada's third largest country of destination,
behind the United States and the United Kingdom. Exports to China, which
have been growing for the past seven years, increased 6.6% to $11.2
billion, fuelled by strong exports of canola, iron ores as well as coal
and other bituminous substances. Canada's exports to Japan declined by
25.0% to their lowest level since 2003."

"In 2009, the United States represented 63.0% of Canada's total merchandise trade (exports and imports combined), down from 65.7% in 2008 and 71.1% in 2005. Exports to the United States declined 28.2% to $269.5 billion, led by falling prices of energy products and lower demand for automotive products."
. z
Canada's
Export
Destinations
based on the chart above, WTGR created a line chart to see the relationships

z
Canada's
Export
Destinations
due to the very large number for exports to the USA, a graphical representation looks poor because the UK, China, Japan and Mexico figures are collapsed at the bottom. Below is a rendition easier to view.
(WTGR)

interesting to note that despite the USA importing less, which means Chinese companies have less customers, Canadian exports to China still rose in 2009
z


Canada - U.S.A. - China - Japan (2007)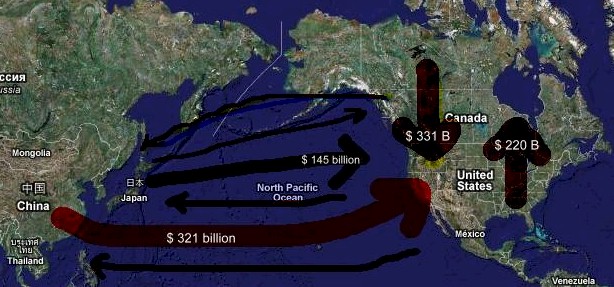 ,
Canadian exports to the U.S.
Canadian imports from the U.S.

Canadian exports to Japan
Canadian imports from Japan

U.S. exports to Japan
U.S. imports from Japan

$ 331 billion
$ 220 billion

$ 9 billion
$ 15 billion

$ 62 billion
$ 145 billion


$ 782 billion
total value of Canada - U.S. - Japan trade
Canadian exports to the U.S.
Canadian imports from the U.S.

Canadian exports to China
Canadian imports from China

U.S. exports to China
U.S. imports from China

$ 331 billion
$ 220 billion

$ 7 billion
$ 34 billion

$ 65 billion
$ 321 billion


$ 978 billion
total value of Canada - U.S. - China trade
Canada - Japan - China
$ 9 billion Canadian exports to Japan
$ 15 billion Canadian imports from Japan
$ 7 billion Canadian exports to China
$ 34 billion Canadian imports from China


Points to observe from these
pie charts
1. Canada exports more to the U.S. than China
2. Canada's biggest export market in Asia is Japan
3. Canada imports "twice" as much from China, as from Japan
4. Canada is still the biggest export market for U.S. goods
5. The U.S. has a massive trade deficit with China
- however a lot of this is U.S. based companies operating in China, exporting back tot he U.S. (eg. Walmart)
b
One of the purposes of this chart is to illustrate a point often incorrectly observed re: USA-China trade
Some Americans and Chinese too, say that the China-USA trade is the most important to each country
- not so, the US-Canada trade relationship is by far the biggest economic exchange



Prof. Tim Richardson



sources
http://www.ic.gc.ca/epic/site/ibi-iai.nsf/en/h_bi18602e.html

http://www.ic.gc.ca/epic/site/ibi-iai.nsf/en/bi18683e.html

http://www.census.gov/foreign-trade/balance/c5700.html


..

.

Prof. W. Tim G. Richardson © www.witiger.com