WEB CAMS
- the Internet is increasingly becoming an image and Audio based medium and less of a text based medium
.
last updated 2007 Jan 12
.
.
This page used in the following courses taught by Prof. Richardson
.
..
Disclaimer:
Web cams noted herein are examples of the variety of lifestyle and topics shown in "cam culture" and does not necessarily mean the professor of the class endorses any particular cam. Students might exercise discretion when looking at webcam sites since it is possible to see "anything".

One of the impacts on Society created by the web is the ability to "see" scenery, events and activities all around the globe through Web Cams

http://www.earthcam.com/
a web site featuring selections of various themed cams around the world
You can go to this web site and spend "days" looking around web cams all over the world

examples
border cam

.
There are also cameras for providing views of downtown Toronto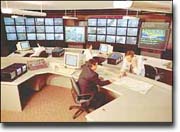 This is a typical example of what the image looks like in the rescue cam - the practical purpose is so that people can look at this and decide what routes to go when traffic might be blocked.

One of the most popular uses of web cams is to show street scenes in major tourist attractions of the world


http://www.earthcam.com/usa/newyork/timessquare/
the cam for Times Square is also fairly good quality and individual people's faces can be determined, which may or may not cause some people to feel uncomfortable. The question we can ask ourselves is "should areas of the city, in which there are live web cams, be posted, so people have the option of avoiding that if they do not want to be on the web"
.

Web cams have practical consequences such as child care information



"Child care centres are experimenting with Web cams that let parents look in on their kids' activities via the Internet"

Tyler Hamilton, Technology Reporter for the Toronto Star wrote and article in March 2002, explaining that

"A handful of child-care facilities across the province have introduced video-monitoring services over the past year as a new feature for working parents. According to Statistics Canada, roughly 700,000 children under the age of six go to out-of-home, non-relative daycare while their parents work or study. The children usually spend nine hours each day away from home."

Hamilton says "...Proponents of daycare monitoring systems say the technology helps ease the stress, anxiety and guilt of single or double-income parents — particularly new moms and dads — who yearn to be closer to their smiling bundles of joy. It also gives daycares an opportunity to charge more for a service that brings greater accountability and the perception of increased safety to the nursery. But do the children benefit? While it's still early days for the technology, critics say such monitoring systems may be too privacy-invasive for both the toddlers and the teachers, and point out that extended use could adversely affect the psychological and emotional development of the child."
How fast is it spreading?
Hamilton explains "In the United States, services such as WatchMeGrow, KinderCam and Kinderview have been offering video monitoring in daycare centres for a couple of years. U.S. experts say as many as 10 childcare facilities add Internet viewing systems each month, and that the total number of centres with some form of Internet monitoring runs into several hundreds. Canada, by contrast, is still flirting with the concept. One of the first daycares to introduce the technology was the Kanata Research Park Family Centre, with help from multimedia equipment supplier March Networks Corp. Others include Mississauga-based Peekaboo Child Centre Inc., Kinder Campus Ltd. in Edmonton and Arpi Nursery near Bathurst St. and Lawrence Ave. in Toronto."


an example of one of these new web cam operated child care centers

watchmegrow.com

.
another example of one of these new web cam operated child care centers

kindercam.com
..
Misc.
Web
Cam
applications
Automotive Industry

from a USA TODAY article
" GM Invites Buyers to Track Car Assembly Via Web Cams... General Motors plans to put Web-accessible cameras in factories so buyers can use the Internet to watch their vehicles being assembled. It's a novel approach aimed at keeping customers excited about a car they ordered. And it's also part of GM's plan to cut vehicle delivery time to about 10 days from the current 60 to 70 days. "With video cams, we hope to bring our customers a much more real-life experience,"
says Mark Hogan, group vice president of e-GM."
.
Misc.
Web
Cam
applications
Tourism Industry

Many tourism situations depend on weather, parking availability and number of people in attendance. There are a growing number of webcams that show things such as
- scene on a ski hill so you can see the snow
- scene at a zoo parking lot so you can know how crowded it is
- or a scene in a particular animal cage to see the new tiger cub, or elephant calf, etc.
- lineups outside an event
- sunsets and sunrises at famous locations
- beaches
etc.
.
Misc.
Web
Cam
applications

Tourism Industry: resorts:

Tourism Industry: resorts:

Live view from Turtle Bay Resort on Oahu's beautiful North Shore.
The camera is mounted on the 6th floor of Turtle Bay Resort.

.
Misc.
Web
Cam
applications

Tourism Industry: resorts:

When this screen capture was taken, 12:00 noon EST, Jan 3rd 2007, you can see the pool is empty of people (probably cause it is just breakfast time in Hawaii) and there is a big wind and a large surf building up.

The particular web cam that Turtle Bay uses is streaming and refreshes every second so it looks like a slow moving picture and you can see the palm fronds moving and the surf crashing.

Such images can be used for several purposes
1. People working in the tourism industry, selling tour packages, can use these images to prove and validate the description of a facility, and the current weather there
2. People on vacation can send such URLs to "folks back home" and saw "we are here, looks nice eh"
.
Misc.
Web
Cam
applications

Tourism Industry: winter weather: snow conditions

Tourism Industry: winter weather: snow conditions

Since snow conditions change on a daily basis (sometimes hourly) at resorts, any information that can provide that detail will help tour operators in booking, and help customers make decisions about destinations.

Seen below is a cute image from a web cam set up in Wilderness Valley
www.wildernesspines.com/LiveCam.htm
near Gaylord in the state of Michigan. Viewers can see the thermometor to know the actual temperature, and the numbers on the other scale show how much snow has accumulated. Many hard core skiiers and snow boarders often complain that winter resorts, sometimes, exagerate the snow conditions - but, if you have a web cam, it is pretty convincing because you have visual "evidence" of any boasts the resort is claiming.
.
This screen capture was taken Jan 3rd, 2007 - which followed a December 2006 in which much of southern Ontario and north-eastern USA had mild temperatures, and no snow.

if you click on the screen capture, you can see that the thermometer shows the temp is 40oF !!.
ff
Misc.
Web
Cam
applications

Tourism Industry:

Tourism Industry: facilities

Placing web cams in bars, and other types of hotel facilities has several ramifications for privacy issues, and of course there is always the chance a parent could view an underage child on site, but leaving those awkward issues aside for a moment, there are several (CRM) customer relationship management reasons for utilizing web technologies in this way.

People can see a crowded bar, and react several ways

that it looks like it is exciting, and then decide to go there when they are in the neighbourhood cause the place looks lively.
that it looks too crowded then make a decision to go at a different time of day if they had the intention of getting a seat in a booth - thereby the customer ends up with a more satisfying experience.

People can see that layout of the facility and the decor and have an appreciation for what the "ambience" might be there
- thereby you are, in a sense, screening out customers who might not like the bar cause you reduce the chance someone will walk in and think "this sux", cause they had a chance to know in advance, what it is like
.
This screen capture was taken Jan 3rd, 2007 - around lunchtime. The image shows there are several stools empty, which may mean it is easier to get a seat for lunch, than after work.
http://sloppyjoes.com/sloppycam/sloppycam2.htm
The bar is on a busy street in Key West, Florida. they also have a web cam showing the street outside the bar so viewers can see the action going on there too during different festival events.
ff

Misc. Web
Cam applications

Astronomy

Astronomy researchers are always challenged by funding problems. Sometimes people think the money spent on skygazing is not as important as schools, roads or pollution so astronomers are always thinking of kewl ways to share the results of their discoveries with the general public to create greater public interest, which would support funding. One thing astronomers have been doing lately is attaching web cams to the telescopes so people can go to websites and see various star formations, etc.
.

Webcams
and
Security
Issues
Hoi-ming W. in BCS 555 in Nov 2004 found this information about vulnerabilities of using webcams

Gaudin explains "A new variant of the Rbot worm has the ability to take over users' webcams and use them to spy on people in their offices and homes. Rbot-GR is not widely spread at this point [fall 2004] but at least one analyst says it may be the first wave for a new type of malware."

"The Rbot-GR worm spreads via network shares, exploiting a number of Microsoft security vulnerabilities, installing a backdoor Trojan horse as it travels. The worm specifically looks for computers that already have been infected with the MyDoom worm. Once installed on an infected computer, remote hackers can easily gain access to the information on the PC's hard drive and steal passwords, as well as spy on innocent users via their webcam and microphone. "


KEY
POINTS
Prof. Richardson says, this situation is particular problematic for people that buy a computer system that includes a webcam, and they automatically leave the cam on all the time - if their computer gets hacked, the cam may be remotely accessed with a trojan - and the easy way to prevent people doing this is turning off the cam when you are not using it.

It is also possible for "bad guys" to drive around the neighbourhood in a car using a wireless notebook to try and capture a wireless cam signal from a house, and view what the cam is viewing.
,
Webcams
and
Security
Issues

Terrorists eyeing webcams for vulnerabilities: FBI

Jan 12th, 2007, the Toronto Star ran a story explaining that "Key U.S. security agencies warn that terrorists might exploit pictures of sensitive facilities such as airports that can be routinely viewed by the public through Internet feeds."

The Star said "A confidential assessment jointly prepared by the FBI and the U.S. Homeland Security Department says online webcams could be a valuable tool for extremists determined to attack critical targets. The agencies urge government organizations and private-sector partners to "review the information available on their websites, and balance the public need for information with security concerns."

The Star quotes David Harris, a former CSIS officer, who said "webcam feeds raise the possibility that facilities are unwittingly equipping their adversaries with tactical information."
,
Web cams and
Privacy Issues
There are a number of situations where a web cam is installed in an area where the people being observed are part of a community that has a heightened understanding of web based technologies and the consequences for privacy and personal security issues - an example is a web cam in a college or university student environment.

Most all college and university students know what web cams are for and many own web cams and use them for chatting online and other personal interactive communication. Some people feel relaxed about strangers seeing them on a web cam, other people are quite cautious.


| | |
| --- | --- |
| | At UTM, University of Toronto Mississauga campus, there has been a web cam on the Tim Hortons as a courtesy to people who are thinking about lining up there - as most Canadians know, owning a Tim Horton's franchise is considered by some a "license to print money" and the lineups at "timmies" seem to be the longest in the country. In order to save UTM students wasted time, UTM put up a web cam so students could view the line up, and then persumably go at alternate times. |

A good idea???
Maybe, you see, some people thought that it was a nice convenience, but, other people thought it was an invasion of privacy so they made the lens on the web cam "out of focus" so you could not actually see any faces, just the size of the line.
In Jan 2007 the URL for this web cam was www.utm.utoronto.ca/4306.0.html
check it out yourself
Installing
a Web
Cam
Manufacturer's sites
HP www.homeandoffice.hp.com/hho/us/eng/web_cameras.html?role=null&preview_date=

How To Setup A Webcam , By Richard Santalesa, ZDNet Reviews & Solutions
formerly at http://www.zdnet.com/products/stories/reviews/0,4161,2412377,00.html
.
"After you set the software up, including all of the FTP settings to actually get your image to your web server, you'll need to put your image on your site. You can simply put the image up on your page as you usually would, but if you want it to refresh automatically so that people don't have to reload your page all the time, you'll need a java applet." http://www.overnow.com/camhowto.html
<APPLET code="javacam.class" width=320 height=240>
<PARAM name="url" value="http://www.path.to/your/image.jpg">
<PARAM name="interval" value="15">
</APPLET>

javacam.clas file can be obtained from http://www.witiger.com/downloads/
.

.
.