to create a basic web page you need ...
7. Publishing the content
software to send the pages to the hosting server

FTP = File Transfer Protocol

Once you have made the pages, either in an editor like Netscape Composer, or HoTMetaL, or
Frontpage, you need to "upload" these pages to the server which is hosting your site. This means your ISP must give you a URL, something like www.isp.com/~mysection and a password, which you then use to upload.

Uploading is easy using a program like WS-FTP.
It's like using Windows Explorer - with the left hand of the screen showing the files on your computer, and the right half of the screen showing the files on your server.
The screen capture below shows what FTP looks like
The left half of the screen are the files on your computer, the right half are the files on the server hosting your site. To "FTP" the files up to your site you basically click on the files on the left, and drag them to the right hand side.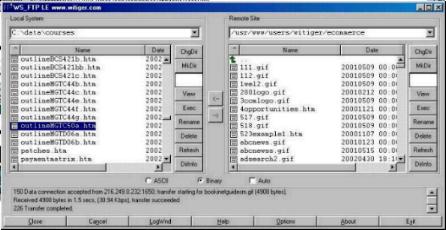 - if you do not have WS FTP you can download it from www.witiger.com/downloads/