| | |
| --- | --- |
| NEW PRODUCT DEVELOPMENT | |
.
Updated 2011 Feb 16

see also BCS 555 assignment based on this unit
witiger.com/senecacollege/BCS555/assignment555homework1.htm

viewed best in

.
This page used in the following courses taught by Prof. Richardson
.

CCT 322
BUS 106
BCS 555
MRK 106
.

New Product
Development
Process
....
Five steps in the New Product Development Process, as understood by most marketing textbooks

1. Idea Generation

brainstorming - thinking about it
creating a new product based on some observed need
thinking of a new product based on some accident or chance circumstance

2. Screening

getting opinions from

employees
potential customers
media
government

what are the weaknesses of existing products that are similar
is there any competition for a new product
What are the industry sales and market trends the product idea is based on

3. Idea Evaluation / Concept Development

estimate costs, revenue, profit,
do market research

describe the main group of people who will be the first customers

4. Development of Product / Business Analysis

physically design and manufacture the product
estimate likely selling price based upon competition and customer feedback
estimate sales volume based upon size of market
produce a physical prototype or mock-up
test the product (and its packaging) in typical usage situations

5. Commercialization

"make enough to sell"

manufacture a large amount to send out to the stores that will stock the items so enough inventory on hand for the public to buy

launch "promotion campaign"
.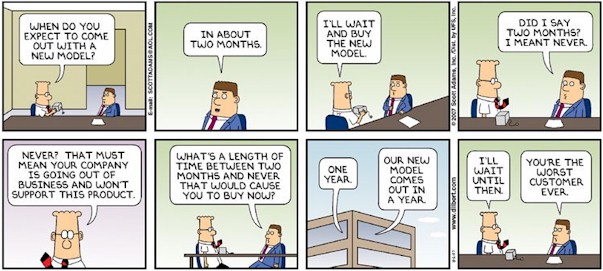 While the Dilbert cartoon is funny, it represents the challenge that companies always have coming up with new products
people like using the old product - especially software products that take some time to learn
people don't like the expense of a new product
people don't like it when parts or tech support is not available for an old product so they resent companies always churning out new products
best example in 2010 is people not liking Windows 7 and wanting to continue using Windows Vista, or the older Windows XP
people want to wait until the new product has been on the market for some time so they can evaluate whether it is useful to switch or not

one of the prime reasons companies feel compelled to come out with new models is because of the competitive environment - their competition will see what is selling, and make a new version with better features, so the original manufacturer has to come up with a "new and improved" model or customers will switch to the competition
Shapiro book,
10th edition
Chpt 7 page 209
also
Chapter 10

of the MRK 106 text
and
Chpt 4

of the BUS 106 Text
.

.
2. Screening
Five steps in the New Product Development Process

2. Screening - obtaining opinions from potential users

sources of where you can obtain opinions

employees

do they think the new product will sell
can they see themselves being able to sell the product compared ti the existing product line-up

customers

can be done with a survey, formal or informal

"what do you think if we came out with this..."
customer opinion may help you tweak features of a new product, eg. colour, shape, size, pricing

media

newspaper stories may discuss a similar product being launched in another part of the world and the initial feedback may help you decide how to develop your product
newspaper stories may discuss deficiences in existing products which may suggest new opportunities
online blogs may discuss cuistomers disastisfaction with a certain product, which may provide ideas to inventors or a new product or service

government agencies

rules and regulations may have some limitations on what your new product can do
governments can enact new laws making changes to the way people use a product, which provides opportunity

when new law created banning cell phones while driving, many companies rushed to sell bluetooth devices for "handsfree" calling

some government agebncies can tell you if a new product is complient with pollution controls, or language laws or labelling rules
.

New Product
Development
and the Net

Chpt 8 in Hanson
New Product Development
- physical products
- cyber products


---


Internet Time
Two important apsects, says Prof. Ward Hanson in his book

First - it refers to the rapid change and evolution of

internet tools,
markeplace (the customers)
business practices

Second - it is also the acceleration of

new product development,
competitve activity
and business tactics that are made possible by the internet
.


New Product
Development
Process

Chpt 7 p. 209
How New Product Characteristics affect adoption, as explained in the Shapiro book, 10th edition
Chpt 7 page 214

1. Relative Advantage
- the Competitive Environment
... better price than competition
... better features than competition
2. Compatibility
- does it fit with what the consumers want to do
3. Complexity
- is it easy to use
- adoption resistance must be comparably low
4. Trialability
- you have to get people to sample it
5. Observability
- can you actually see it work
- is it obvious it is effective and saves time and money
.
.