IEC 818
SECTION 1 ©
The Regulatory Environment
. Federal, Bill C-6
. Provincial, Bill 88
Jurisdiction Issues
Linking Issues
TrademarkUse
Domain Name Disputes
ISPs
Legal Issues
Privacy Issues
E-mail filtering
Cookies
changes last made to this page 2001, Nov 9
course author:Tim Richardson
.
Security and Cryptography

.
Learning Objectives for Section 1

After completing this section, participants will be able to

understand the Canadian regulatory environment within which e-commerce security is developing
know that Jurisdiction Issues are difficult to ascertain and therefore enforcement of e-commerce is difficult
know some of the current disputes related to Domain Name issues and how people are scammed sometimes
discuss the key privacy concerns and relate this to customer relations
know why email filtering is increasingly important
. .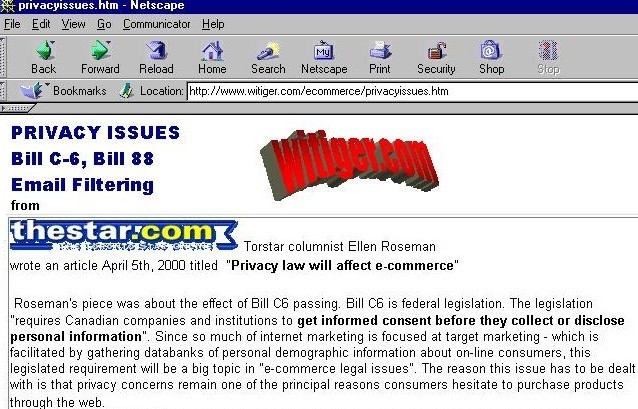 .
Jurisdictional
Issues

One of the biggest challenges in Internet legal issues is the matter of jurisdiction.
If you are speeding in New York City, you can be pulled over by the New York City Police.
If you are speeding on a highway between metro areas, you can be arrested by New York State Troopers.
If you commit a crime that involves travelling between states, you can be arrested by the FBI.
If you commit a crime that is outside the jurisdiction of any particular countries - you will not be arrested since the law can only be enforced when their is an agency that has jurisdiction.


.
Many companies involved in adult entertainment and gambling on the Internet think they can avoid prosecution of local and regional laws by having their server (the hardware machine that actually contains the .html pages being accessed) in various small countries in the Caribbean and this will allow them to avoid prosecution in USA, Canada of wherever they originated from.

The question of jurisdiction does not just apply to adult and gambling sites but as we can see in the case of Yahoo vs. France, relatively innocent companies can drawn into jurisdictional matters through 3rd party actions..
WTGR

---



In August 2000 there was a case involving Yahoo which saw Yahoo being ordered by the French government to block access to sites auctioning Nazi memorabilia. In France, it is against the law for such things to be sold since it comes under the category of their anti-racism and hate crimes legislation. While "www.yahoo.fr" does not carry links to such Nazi sites, it is possible for people to go onther Yahoo sites and find Nazi auctions. Yahoo pleaded that it was technologically impossible to block people accessing such sites but the French government did not agree and took Yahoo to court. As of August 12, 2000, the French judge hearing the case had not yet called for Yahoo to be fined for failing to comply and was delaying his ruling.

The most interesting point coming out of the trial was the judge's "rejecting Yahoo's argument that French courts did not have the power to impose French law ... when French people tapped in to Yahoo's English language portal"
Reuters


---


Update 2001


By Tim McDonald
www.NewsFactor.com,
Part of the NewsFactor Network
November 8, 2001
listed on E-Commerce Times site

"A federal [United States] judge said Wednesday [Nov 2001] that Yahoo! (Nasdaq: YHOO) is protected by the First Amendment of the U.S. Constitution from French groups trying to force the company to ban Nazi memorabilia on its auction sites. Yahoo! was sued last year by anti-racism groups in France, despite the fact that the Nazi memorabilia was selling on a U.S. auction site aimed at U.S. customers, because French users were able to access the site. Though Yahoo! has already taken most Nazi-related items off its global auction sites, the Internet portal asked U.S. District Judge Jeremy Fogel in San Jose, California to consider whether a French court could impose French law on a U.S.-based Internet company. Fogel ruled that Yahoo! would not have to comply with the French order to ban the items."
.
Why do sites use Cookies?
http://www.cookiecentral.com/faq/#1.3
"There are many reasons a given site would wish to use cookies. These range from the ability to personalize information (like on My Yahoo or Excite), or to help with on-line sales/services (like on Amazon Books or Microsoft), or simply for the purposes of tracking popular links or demographics (like DoubleClick)." Cookies also provide programmers with a quick and convenient means of keeping site content fresh and relevant to the user's interests because the cookie tells them simple information about who has been hitting what part of the page
some cookie FAQs

http://www.cookiecentral.com/faq/
"Many Netizens are concerned, "If I allow a Web 'cookie' to be set, someone can access my hard drive." However, cookies cannot be used to get data or view data off your hard drive. Cookies can only get data from what has been written to the cookie file. Are cookies dangerous to your computer? NO. The cookie is simply a text file saved in your browser's directory or folder. It cannot be used as a virus, and it cannot access your hard drive. MSN and Netscape use cookies to store information so you don't have to remember it (passwords, etc.). If you want to see what information is stored in your cookie file, use a word processor to open a file called cookies.txt or MagicCookie. Don't want to accept cookies? Configure your browser to warn you when one is about to be set or refuse them all. It's your choice."

The text to the left was quoted from the page
http://www.becrc.org/ec/webdev/cookies.html
.