Case-Bombardierís Global Strategy
Montreal-based Bombardier Inc. is a diversified Canadian company that specializes in transportation solutions, from commercial and business jets to rail transportation equipment and services. Bombardier was founded in 1942 to manufacture a now-classic Canadian product-tracked vehicles for transportation across snow-covered terrain. Many of the Bombardier snowmobiles that were manufactured decades ago can still be seen in various areas of Canada. One such half-track sits on the windswept shores of Yathkyed Lake in Nunavut, hundreds of kilometers from any town. It is a mute remainder of the important role Bombardier played in opening up Canadaís remote North.
Bombardierís headquarters are in Montreal, but its employees also work in the
United States,
Mexico,
Europe and the
Middle East.
More than 90 percent of company revenues come from outside Canada. Bombardierís strategy is to achieve accelerated growth in foreign markets, so it is continually refining its strategy to find new business opportunities in global markets.

Bombardier has historically been very successful in the commercial airplane market with its regional jets, which seat 50-90 passengers.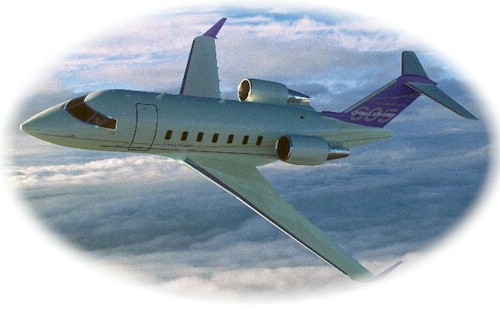 But competition is fierce. In the mid-1990s, Bombardier held two-thirds of the market; then Brazilian rival Embraer entered the market and became a strong competitor. In 2007, Embraer finally overtook Bombardier to become the market leader in regional jets. Along the way, Bombardier had complained to the World Trade Organization that the Brazilian government was unfairly subsidizing Embraer by giving it large sums of money. But the Canadian government was also giving loans to Bombardierís customers to help them purchase Bombardierís planes.
Irrespective of how the competitive wars in the regional jet market turn out, in inescapable fact is that the regional jet market is declining because airline companies want jets with longer ranges, lower operating costs, and wider cabins. Bombardier planners reasoned that if they did not develop a new jet, they would gradually be forced out of the commercial airline business. In 2008, at the famous Farnborough International Airshow near London, England, the company announced that it would go ahead with its new transcontinental CSeries commercial jet, a plane that will seat 110-130 passengers and which is designed for transcontinental flights. The plane will be more fuel efficient than current models and much quieter due to technological improvements in the new engines, Bombardier also announced that Deusche Lufthansa AG had signed a letter of intent (LOI) for 30 of the planes, as well as an option for 30 more. As of November 2010, Bombardier had recorded firm offers for 90 CSeries aircraft



a C-series Bombardier plane used by Korean Air
and options from Lufthansa, Lease Corporation International Group, and Republic Airways. Qatar Airways has also expressed strong interest in the plane.
The introduction of the CSeries aircraft means Bombardier will be going head to head with global giants Airbus and Boeing. That strategy is risky, but if it succeeds, it will mean huge sales revenues and profits for Bombardier. It will also mean that Canada is one of only three countries in the world that produce intercontinental commercial jet aircraft. Market research suggests that the market for commercial jets like the CSeries will be 5000-6000 units over the next 20 years, and Bombardier hopes to get 50 percent of that market. The price of each plane is about $56 million, so if the company achieves its market share goal, it could receive approximately $190 billion in revenues over the next 20 years.
That sounds impressive, but there are three areas of risk associated with Bombardierís strategy.

First, there may (or not) be competing products from other airplane manufacturers. Here, Bombardier may get lucky. There is little evidence that Airbus or Boeing is planning to develop a plane that will compete directly with the CSeries aircraft. Thatís because there are large order backlogs (four to five years) for both the Airbus A320 and the Boeing 737, and the companies are fully engaged trying to fill those orders. However, Embraer may be developing a jet to compete with the CSeries aircraft.


Second, there is some risk associated with the Canadian government. In the past, the federal government has loaned money to Bombardierís customers so they can purchase the planes and trains the company manufactures. But will the government decide to stop handing out money? When he was opposition leader, Stephen Harper said he wanted to end this type of support to private-sector companies, but as prime minister, he has now reversed his position. Industry Minister Jim Prentice says that Canada wants to maintain its position as a global supplier in the airplane business. The Liberal industry critic, Scott Brison, says the Canadian government doesnít have an industrial strategy and is just making ad hoc decisions based on which way the political winds are blowing. But given the uncertain economic times, it appears that government loans are likely to continue.


Third, there is a risk that Boeing, Airbus, and Embraer will argue at the World Trade Organization ( witiger.com/internationalbusiness/wto.htm )that Canada is illegally subsidizing Bombardier. There is a long and contentious history between Bombardier and Emgraer about government subsidies, and each company has claimed at various times in the past that the other is being illegally subsidized by the government. The outcome of any legal action by other airplane manufacturers against Bombardier is very uncertain.

Bombardierís strategy also includes shifting some of the risk of the CSeries aircraft to suppliers and to government. The overall development cost and capital investment of the CSeries aircraft program are projected to total $3.4 billion, including $700 million in capital expenditures and $1.3 billion in non-recurring costs. The remaining $1.4 billion in CSeries aircraft program costs will be split between the government of Canada, the province of Quebec, the government of the United Kingdom (where the wings of the CSeries aircraft will be built), and suppliers. The various governments will be paid a royalty on each plane that is sold. The project will create 3500 high-paying jobs in Quebec and about 800 jobs in the United Kingdom.
Ebert, Ronald J., et al. Business Essentials. 5th Canadian ed. Toronto: Pearson Canada, 2012. Print.
additional information
Toronto Star story March 7th 2013
http://www.thestar.com/business/2013/03/07/bombardier_shows_off_new_cseries_plane.html