.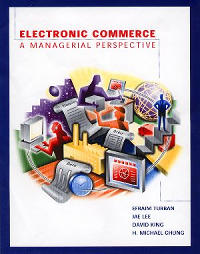 Chpt 5
"Cyberbanking"
page 173
text
Turban's book has 5 pages devoted to the subject of banking, with part of the discussion devoted to personal banking (B2C) and a little bit discussing corporate banking (B2B)

Turban concludes this section by quoting a Boston Consulting Group 1998 study on the future of banking. While this study may be interesting, 1998 is 2 years ago - which is a lifetime on the Net.

WTGR found an article on the Boston Consulting Group site titled
"Banking in Internet Time"
dated March 2000
http://www.bcg.com/publications/search_view_ofas.asp?pubID=546

"To develop enduring online businesses, however, banks need to move fast, invest capital, and experiment with new ventures, realizing that some may fail. Such an approach is an enormous cultural and organizational challenge for most bankers, who have built their careers on minimizing risk and avoiding mistakes. But they have no choice: the opportunities are too great and the threats from newcomers too palpable"

The authors point out an inherent weakness in the "culture" of the banking industry - that is their propensity to avoid risk - which will cause them to take too long to make decisions in the online world and therefore cause them to, perhaps, lose out on some of the new financial and payment situations being developed.
WTGR

"Skepticism
For years, financiers expected online banking to take off and become a highly profitable, low-cost channel. However, a growing skepticism has replaced those great expectations. Online banking has not caught on as quickly as anticipated, causing some bankers to question whether the big investments required to develop the businesses are worth it. In addition, other delivery channels that were expected to reduce costs and increase profits—such as automated teller machines, telephone banking, and in-store banking—have not lived up to their billing at many financial institutions."
"Growing Consumer Interest
Some bankers question whether a sufficiently large number of consumers really want to bank online. They note that in many markets, the growth of the number of online accounts has lagged expectations. But there is ample evidence that droves of consumers are poised to embrace online banking. In the United States, more than 15 million consumers checked mortgage rates online in 1999. About the same number searched online for credit card information. And in the United Kingdom, more than 5 million consumers logged on to the Internet in 1999 to obtain financial information. This way of gathering financial information is the first step toward conducting transactions online. Once consumers start banking online, momentum can build rapidly. In Australia, there were barely 100,000 online banking customers in early 1999. By the end of the year, there were 650,000."

Companies are not run by computers, they are run by individuals. Individuals use, or non-use of a product or service will effect how companies use a product. Cyberbanking can't develop in B2B situations until B2C has proven to work out to the satisfaction of those trying personal banking online.
WTGR

The BCG article was written by Stuart Grief, a vice president in the Boston office of The Boston Consulting Group. Peter Wetenhall is a vice president in the firm's Melbourne office. Bjørn Matre is a vice president in BCG's Oslo office.